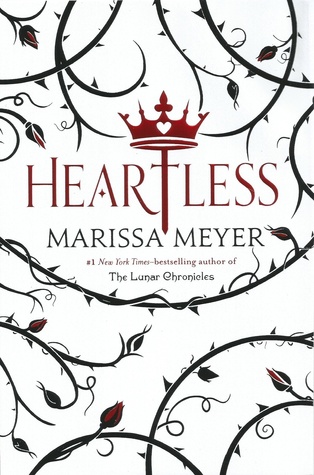 Catherine may be one of the most desired girls in Wonderland and a favorite of the unmarried King, but her interests lie elsewhere. A talented baker, she wants to open a shop and create delectable pastries. But for her mother, such a goal is unthinkable for a woman who could be a queen.

At a royal ball where Cath is expected to receive the King's marriage proposal, she meets handsome and mysterious Jest. For the first time, she feels the pull of true attraction. At the risk of offending the King and infuriating her parents, she and Jest enter into a secret courtship.

Cath is determined to choose her own destiny. But in a land thriving with magic, madness, and monsters, fate has other plans.












"The easiest way to steal something, is for it to be given willingly."
Origin stories have always been stories that I am fascinated by. Especially if it's a new take on the specific villain that the story is based on. I believe this is the first book that I have come across that dealt with The Queen of Hearts from Alice in Wonderland, and I'm so glad that I was able to have the opportunity to read this, thanks to my Owlcrate subscription. What was it about the Queen of Hearts that made her such a horrid person? And why was she so obsessed with decapitating everyone that got on her bad side? This book did an excellent job delving into that story, as well as incorporating elements of the original Alice in Wonderland into this original piece.

Let's start with Catherine, or as her friends like to call her: Cath. Loving the nickname, although it reminds me of Cather in Fangirl since Cath was her nickname as well. The image that I got of her was that she was probably a little bigger than most of the women in Hearts because she liked to bake so much. But I also feel like the only reason why she was probably bigger in my mind than I anticipated was because of the constant jabs from her mother and how she would have food taken away from her mid-meal or straight up not allowed to eat at all on certain occasions. Cath's mother, the Marchioness of Rock Turtle Cove was a real piece of work, and I definitely did not like her at all. If there was anyone truly mad in this book, it had to have been her.

Then there's the amazing Jest, who I have added to my never-ending list of fictional boyfriends. The first time we meet him, he has a sway over the citizens of Hearts with his riddle and magic tricks. Even Cath can't seem to keep her eyes off him, and is curious to find out who he is and where he's from. With the Kingdom of Hearts being small enough that everyone knows everyone, a stranger that nobody has seen before is always going to be the talk of the town, Jest being no exception. My heart beats for Jest, and apparently so does Cath's.

This isn't just a love story though, definitely not. There is love involved, between Cath and Jest, two strangers that seem to have some sort of attraction between them. But there's also a real danger out there in Hearts, in the form of the Jabberwock. It's been many years since a Jabberwock has been seen in Hearts, and if the entire kingdom hadn't seen one in front of them with their very own eyes, they probably would have been find pretending that it was just a silly rumor and forget it ever happened. But no, the Jabberwock is real, and threatens the lives of everyone in Hearts if someone doesn't do anything to stop it.

You would think that the King of Hearts would do something, but don't expect it to happen. Like we've seen of him in Alice in Wonderland, he's a kind-hearted fool, one who would rather have parties and eat treats than actually defend his kingdom and its citizens. That was a complete turn off for me, although I should have known based on the previous versions of him that we've seen. No wonder he's still not married, but who does he have his eyes on? The one and only Cath, probably because he knows that she's the best baker in all the land. Everyone knows it, and to think if he made her Queen, she could make him treats all the time! That was probably what he was thinking when he wanted to propose to her, because there was nothing that Cath did to make it even remotely a question that she liked him romantically. Either that or he's just an idiot. I still don't know which one is more true.

The world of Hearts is one that we have seen before, with talking animals that have human like qualities, special food and drinks that have the capability to change you into something else, and magic. It's the norm in Hearts, and while some of it is fun, others certainly aren't. Some of it is actually quite painful, and dangerous. It is Wonderland, after all. What did you expect?

While I won't spoil the story, we all know that it was bound to have a terrible ending. Terrible in this case meaning that Cath was going to be the vicious Queen of Hearts that we grew up knowing her as. And to think that she started off as someone with such passion about something other than beheading, well we know that something really really bad had to have happened to make her change. I can say that, if I were in her shoes, I probably would have reacted the same way, probably worse than what she ended up as. I feel for her, my heart breaks for her, and a part of me wonders if it really is better to be heartless or not. By the time you get to the end of the book, maybe you'll have the answer for yourself.

Rated: 5/5 ★