#FaeFriday was created to help fill the hole in Kristy's life after #FridayFavorites was discontinued. The idea behind this weekly blog prompt is that each Friday will have a bit of magic sparkled on it with a bookish prompt inspired by the Fair Folk! #FaeFriday is the creation of Kristy from Caffeinated Fae! This blog tag would not have been possible without the help & encouragement from Leah at www.leahs-books.com! If you have a prompt idea, please contact me, and you'll get credit if/when it's used!
To participate in Fae Friday, please do the following:
Link back to this page on Caffeinated Fae.
If the prompt idea is from another blog, link to that blog as well.
Use #FaeFriday when posting to social media so we can all find each other!
Participate when you can & have fun with the prompt!
This week on #FaeFriday, we're talking pixie dust! If you've seen Peter Pan, you know that pixie dust is used to make you fly. So this week's prompt is: What is a book that made your heart soar?
I know Disney made the Peter Pan story much nicer than the actual source material, but that didn't stop me from wishing that I could have some pixie dust to make me fly all over the world. I love dreaming of flying, without airplanes. I'd love to fly! So finding a book that gives me that feeling is an amazing moment.
I honestly can't explain why these books made my heart soar, but maybe if you read it you can take a gander. I guess because they filled me with some sort of hope for love, happiness, friendship, and the future. It's hard sometimes for me to think about the future when I honestly never thought that I would have been around pass senior year of high school. I think it was hard for me to see me make myself of anything after that because I had such high expectations and then I stopped believing in myself. That's a story for another time though, if I ever find the courage to share it.
I finished two books yesterday and both of these are what I'm picking for this prompt:
Can I just say that I need another volume of the Wash Day Diaries?! It was perfect and I need more! It was so amazing, and I'll be sure to share more of my thoughts on it in an actual review at some point, but my gosh it was so beautiful. Makes me think about my hair care journey and wishing I had some sort of sisterhood like Kim, Tanisha, Davene, and Cookie have. Plus their outfits were FIRE!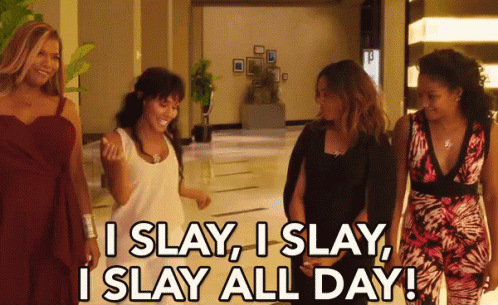 And then of course Zoe Washington just made me cry at the end but I was so happy with how everything came out. I'm so glad the sequel came out recently! I can't wait to read / listen to it because I know it's going to be amazing.
That was a fun prompt. I really like going back to the past prompts since this one is finished. I know I used to do First Line Fridays before and if I end up finishing all the prompts for #faefriday, then I may go back to that one. It was pretty fun, and I got to pick up random books and see if they were going to catch my attention.
It's going to be the weekend! I have some things I need to work on, but I'm also going to make sure I set aside time to do the book discussion for I Love You So Mochi, even if I don't finish annotating my book yet. I just can't wait to talk about books again with people that love talking about books! It's one of my favorite things to do.
See you next time, y'all!