Hey mersquad coven! Today is another blog tour day – wow it's weird not having a lot of blog tours on my schedule anymore after everything that happened – so I hope you enjoy! Thank you to Rachel's Random Resources for having me on the tour. Be sure to click on the banner to see the rest of the schedule and all those good details.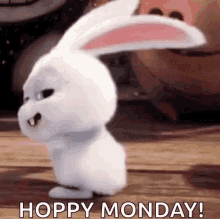 It's also another Monday so enjoy this bunny gif, I guess. Who is this dude again? I feel like I should know the answer to that question.
Tell That to my Heart
by Eliza J. Scott
Series: Heartshaped #1
Release Date: June 22, 2020
Genre: Romance, Women's Fiction
Jemima Dewberry wears her heart on her sleeve. Her weakness for bad boys, coupled with her track record for making bad decisions has led to endless heart break. The only trouble is, she can't seem to kick the habit.
On top of that, her "dream" job at Yorkshire Portions magazine hasn't turned out to be what she'd hoped, and she seems to have developed the knack of annoying her boss without even trying. It doesn't help that the new girl seems to have taken an instant dislike to her. All that's keeping her there are her best friends Anna-Lisa and Aidey, who have picked up the pieces of her shattered heart more times than they care to remember.
When Jemima's latest boyfriend turns out to be no better than the rest, the hurt and humiliation is almost unbearable. She declares she's finally through with love, and swears off men for life. But when charismatic Caspar De Verre walks into the office with his dangerous good looks and mesmerising smile, she's utterly captivated, and her promises to Anna-Lisa and Aidey not to let her heart rule her head are soon forgotten.
But is Caspar all he seems? Anna-Lisa and Aidey have their doubts. And Herbert, the happy-go-lucky black Labrador Jemima's looking after, doesn't seem to like him either.
As Jemima falls for Caspar's charms she finds herself being forced to confront the struggle between her head and her heart. But which one will prove the most powerful?
And will Jemima get the happy-ever-after she so desperately craves?
Eliza is proud to be a member of the RNA. She lives in a 17th-century cottage in a village in the North Yorkshire Moors with her husband, their two daughters and two mischievous black Labradors. When she's not writing, she can usually be found with her nose in a book/glued to her Kindle or working in her garden, fighting a losing battle against the weeds.
When she's not reading or gardening, Eliza also enjoys bracing walks in the countryside, rounded off by a visit to a teashop where she can indulge in another two of her favourite things: tea and cake.
Her biggest weakness is ginger biscuits dunked in tea.
Eliza is inspired by her beautiful surroundings and loves to write heartwarming romance stories with relatable female characters. She enjoys exploring the dynamics of female friendship, with a key feature of her books being how women pull together and support one another when things get tough.
Eliza's novels will always have happy endings.
Disclaimer: I voluntarily read and reviewed an advanced copy of this book. All thoughts and opinions are my own. Thank you to Rachel's Random Resources and Eliza J. Scott for this free copy. All quotes in this review are taken from the Advanced Reader Copy and may change in final publication.
One of the first things that Scott lists on her bio on Goodreads is that she writes stories with happy endings. So that should tell you – or at least give you a little hint – that there is going to be some sort of happy ending in this novel despite it being the first book of a new series. Which, for me is really great because I absolutely can't handle really angsty and emotional cliffhangers for endings right now, especially with this being a romance.
This is also another romance novel where we have our main character finding out that getting the job of their dreams isn't all that they expected it to be, and honestly it makes me really sad to read those kinds of books right now. I understand that none of our dreams are going to be exactly as we thought, and sometimes it can be even better than we thought, but when they end up being worse in order to move the plot along, it just hurts my heart. You know? I want women to be happy with the jobs that they worked so hard to get, and not have something make them feel like their dream job wasn't worth working towards.
Also, with the way Jemima is described as being prone to making bad decisions, it makes me wonder if her "dream" job – since it was indicated as such – was one of those bad decisions? Which would be such a shame because it's always hard seeing something that you consider a dream to be a bad decision.
Anyway, maybe I went into this seeing the premise as already setting Jemima up for failure, and I wasn't liking that at all, but I guess seeing how things ended up turning out for her kind of made it a little bit of a wild ride. Nothing too crazy or anything, and nothing completely off brand for what Scott writes at all, but I guess having all of these things already listed against Jemima gave me more of a reason to see how far she was going to go in this novel. It was an interesting experience, and I think that Scott does a good job writing romance novels with happy ever after endings.