Ugh sakura blossoms are always so lovely this time of year, and I'm so wishing that I had a sakura tree at my house because I don't have any to see near me. So having all of these amazingly cute anime aesthetic gifs to post during the spring event should be pretty fun as an alternate, right? Well, a little bit, but I'm taking what I can get!
Sam & Clo are the brains behind Bookending Spring and all of the other Bookending events that have happened. I've only been able to participate in three events so far, but omg that is almost a full year of being a part of this amazing event, so I'm happy that I found this!
Day 3's host is Sam and we got some identity crisis events here. Well, it's similar. I think this one is super interesting and I'm definitely going to try to pick some hard ones. Sneaky, sneaky.
Don't judge a book by it's cover the remix edition! Let's see if you can accurately guess a book's synopsis–solely on the cover alone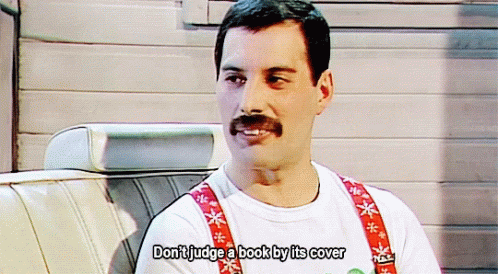 Okay thank goodness Sam gave us a link to a random book generator to use to do this, because I couldn't just go through my Goodreads TBR list and just guess random ones. Clearly I'm a basic bitch like that so we will see what we come up with!
Round One
The Return of Philip Latinowicz by Miroslav Krleža
My Synopsis:
Uh so this dude Philip, right? He was gone for a long as time, but now he's BACK. In this room…. trying to write or something because he has like a desk and a table or a record player thing. And a window. Because artist.
Actual Synopsis
Philip Latinowics is a successful but disillusioned painter who returns to his hometown on Croatia's Danubian plain after an absence of twenty-three years. He hopes that revisiting his cultural roots will inspire him to create the perfect work of art and thereby restore his faith in both art and life. Haunted by his troubled childhood, however, he falls in with shady characters and discovers the emotional, intellectual, and imaginative poverty of his background.
See I was super freaking close.
Round Two
The Last World by Christoph Ransmayr
My Synopsis:
Uhh…. so it's the end of the world as we know it and there's some sort of art renaissance orgy happening and apparently no people of color are invited because we don't have time for that.
Actual Synopsis
Acclaimed as a modern masterpiece and as one of the most important novels of our time. The Last World is the story of a young man's quest for the exiled poet Ovid and the masterwork he has consigned to the flames. Ransmayr has created a visionary landscape, a transformed place where the ancient world meets the twentieth century. A metaphysical thriller both compelling and profound. The Last World draws the reader into a universe governed by the power of mythology, a world of decay on the brink of apocalypse. A novel about exile, censorship, and the destruction of the planet, this is a cultural and political fable that is blazingly topical, yet timeless.
Oh yeah sounds pretty intense either version. Why did I get these obscure ass books though?!
Round Three
The Silent Patient by Alex Michaelides
My Synopsis:
Crazy ass doctor sealing people's mouths closed doing illegal surgery because he doesn't like anybody's voices.
Actual Synopsis
Alicia Berenson's life is seemingly perfect. A famous painter married to an in-demand fashion photographer, she lives in a grand house with big windows overlooking a park in one of London's most desirable areas. One evening her husband Gabriel returns home late from a fashion shoot, and Alicia shoots him five times in the face, and then never speaks another word.

Alicia's refusal to talk, or give any kind of explanation, turns a domestic tragedy into something far grander, a mystery that captures the public imagination and casts Alicia into notoriety. The price of her art skyrockets, and she, the silent patient, is hidden away from the tabloids and spotlight at the Grove, a secure forensic unit in North London.

Theo Faber is a criminal psychotherapist who has waited a long time for the opportunity to work with Alicia. His determination to get her to talk and unravel the mystery of why she shot her husband takes him down a twisting path into his own motivations—a search for the truth that threatens to consume him… 
Yeah….. sounds intense and everyone keeps saying that this book was so good! I was close, whatever.
Round Four
Save Me the Plums by Ruth Reichl
My Synopsis:
Well clearly people in Ruth's life would keep eating the plums that they would get from the farm or the grocery store and she was just freaking tired of it. So she moved out and then was able to get all the plums she could ever want.
Actual Synopsis
Trailblazing food writer and beloved restaurant critic Ruth Reichl took the job (and the risk) of a lifetime when she entered the glamorous, high-stakes world of magazine publishing. Now, for the first time, she chronicles her groundbreaking tenure as editor in chief of Gourmet, during which she spearheaded a revolution in the way we think about food.
When Condé Nast offered Ruth Reichl the top position at America's oldest epicurean magazine, she declined. She was a writer, not a manager, and had no inclination to be anyone's boss. And yet . . . Reichl had been reading Gourmet since she was eight; it had inspired her career. How could she say no?
This is the story of a former Berkeley hippie entering the corporate world and worrying about losing her soul. It is the story of the moment restaurants became an important part of popular culture, a time when the rise of the farm-to-table movement changed, forever, the way we eat. Readers will meet legendary chefs like David Chang and Eric Ripert, idiosyncratic writers like David Foster Wallace, and a colorful group of editors and art directors who, under Reichl's leadership, transformed stately Gourmet into a cutting-edge publication. This was the golden age of print media—the last spendthrift gasp before the Internet turned the magazine world upside down.
Complete with recipes, Save Me the Plums is a personal journey of a woman coming to terms with being in charge and making a mark, following a passion and holding on to her dreams—even when she ends up in a place she never expected to be.
So like I said, she just wanted the damn plums.
Clearly I'm not as cultured as I thought I ever was because I only heard of one book on this list. And for the first two, I did any years and that was giving me super old stuff so I went to 2019 for the last two.
And clearly I should not be allowed to write synopses for books that I know nothing about but I think mine were funny so…. yeah.
Are you going to try this one? I think this was a super fun game! I'd love to see if anyone ends up doing this and what books and synopses you come up with. Make it funny? Make it intense? I don't know but at least try!