Wow I wasn't expecting to get a gorgeous ARC of this gorgeous novel, and I also wasn't expecting to get a spot on this blog tour. Every single day I'm just so thankful for these opportunities. Thank you again so much to the team at FFBC for hosting this blog tour. Click on the banner for all of my fellow hosts on this tour – both bloggers and bookstagrammers – and be sure to give us some support. These can get hard, you know!
In the tradition of Laurie Halse Anderson's Speak, a devastating but hopeful YA debut about a ballerina who finds the courage to confront the abuse that haunts her past and threatens her future.
There are two kinds of people on the planet. Hunters and preyI thought I would be safe after my mother died. I thought I could stop searching for new places to hide. But you can't escape what you are, what you've always been.
My name is Savannah Darcy Rose.
And I am still prey.
Though Savannah Rose―Sparrow to her friends and family―is a gifted ballerina, her real talent is keeping secrets. Schooled in silence by her long-dead mother, Sparrow has always believed that her lifelong creed―"I'm not the kind of girl who tells"―will make her just like everyone else: Normal. Happy. Safe. But in the aftermath of a brutal assault by her seemingly perfect boyfriend Tristan, Sparrow must finally find the courage to confront the ghosts of her past, or lose herself forever….
Mary Cecilia Jackson has worked as a middle school teacher, an adjunct instructor of college freshmen, a technical writer and editor, a speechwriter, a museum docent, and a development officer for central Virginia's PBS and NPR stations. Her first novel, Sparrow, was an honor recipient of the SCBWI Sue Alexander Award and a young-adult finalist in the Writers' League of Texas manuscript contest. She lives with her architect husband, William, in Western North Carolina and Hawaii, where they have a farm and five ridiculously adorable goats.
Disclaimer: I voluntarily read and reviewed an advanced copy of this book. All thoughts and opinions are my own. Thank you to Fantastic Flying Book Club and Tor Teen for this free copy. All quotes in this review are taken from the Advanced Reader Copy and may change in final publication.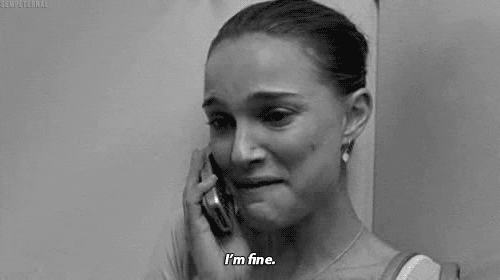 Not gonna lie: the cover totally gave me Black Swan vibes and I never even watched the movie. It's a psychological horror, I can't do that. But I knew I had to share some gifs of my forever fave Natalie Portman for this review because she is the Sparrow I see right now.
Anyway, books like this literally kill my heart because I can't bear to read any more novels about girls being abused and being forced to hide their hurt and their abuse from the outside world because people won't believe them if they speak up. I'm so freaking pissed at what she had to deal with, and I freaking am dying that she legit sees herself as "prey" right now, you know? Ugh this is not what I want you to think, Sparrow. YOU are not prey, no matter what you've gone through. YOU are so much more than that.
Okay yes I'm getting hella emotional about this because I feel like that one line about her being "still prey" in the synopsis, and then reading about what she went through not only from when her mom was alive but what her "boyfriend" Tristan did to her – no spoilers – just sickens me. Completely sickens me because us girls need to be loved and cared for and protected at all costs.
I understand that we all have a past. I don't think there's anyone I've ever met that doesn't have some sort of past that they want to forget about, or are still healing from. Even if they are healed from it, they still have it in the back of their mind and it's what made them into the person they are today. So I get that both Sparrow and Lucas have their past to deal with, and I love the fact that Sparrow puts her love and soul into the world of ballet. I know I could never do it. The discipline and the physical pain and the perfection you have to have to be just right, just perfect really, takes a lot of effort and I feel like that's why Sparrow puts her whole self into it. And maybe I was going off in a different tangent with this paragraph but now I'm just sad again because Sparrow is just trying to find hope in the world again. She doesn't need to be prey to have hope. I just need Sparrow to be okay.
Okay I'm gonna go cry my eyes out now.
I noticed that I haven't been really signing off lately, and I'm so sorry about that fam. I've been having really bad moments lately being at home. I love being at home, don't get me wrong, but I don't like the circumstances as to why. I'm hoping that we are able to all heal from this time, and that people really take the social distancing directive seriously. It's getting to the point that I have to bring my work desktop home so I can work from home, not just from my laptop because I don't have access to all the files I need. I don't think we've ever had that done before, at least I know that's never happened since I've started working here. So things have been really insane, and even though I'm still sick, I'll see what I can do from home and just make sure I'm available to help out in any way I can.
Remember, I'm here for you. If you need to talk about anything, just want to vent and me to listen, talk about something completely out of the blue so we can take our minds off our anxiety and stress, I'm here for you. You have all my social media handles on my blog here, and you can reach out to me on any one of those. If you want a texting buddy, let me know. I don't mind giving my number to those that really need it, especially if you need to talk but want to be off social media. I get it. And I'm here for you.