Okay seriously this freaking cover makes me want to get another tattoo. Is that weird??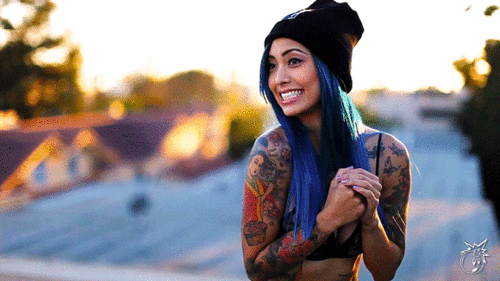 Thank you soooooo much to Fantastic Flying Book Club for hosting this amazing blog tour! Click on the banner for more information, and to see the rest of the hosts on this tour.
by Kim Smejkal
Publisher: HMH Books for Young Readers
Release Date: February 11, 2020
Genre: YA Fantasy, LGBT
A lush, dark YA fantasy debut that weaves together tattoo magic, faith, and eccentric theater in a world where lies are currency and ink is a weapon, perfect for fans of Leigh Bardugo and Kendare Blake.
Celia Sand and her best friend, Anya Burtoni, are inklings for the esteemed religion of Profeta. Using magic, they tattoo followers with beautiful images that represent the Divine's will and guide the actions of the recipients. It's considered a noble calling, but ten years into their servitude Celia and Anya know the truth: Profeta is built on lies, the tattooed orders strip away freedom, and the revered temple is actually a brutal, torturous prison.
Their opportunity to escape arrives with the Rabble Mob, a traveling theater troupe. Using their inkling abilities for performance instead of propaganda, Celia and Anya are content for the first time . . . until they realize who followed them. The Divine they never believed in is very real, very angry, and determined to use Celia, Anya, and the Rabble Mob's now-infamous stage to spread her deceitful influence even further.
To protect their new family from the wrath of a malicious deity and the zealots who work in her name, Celia and Anya must unmask the biggest lie of all—Profeta itself.
Kim Smejkal lives with her family on muse-satiating Vancouver Island, which means she's often lost in the woods or wandering a beach. She writes dark fantasy for young adults and not-so-young adults, always with a touch of magic. Her debut novel, INK IN THE BLOOD, will release from HMH in early 2020, with a sequel to follow in 2021. She is represented by Daniel Lazar of Writers House.
Disclaimer: I voluntarily read and reviewed an advanced copy of this book. All thoughts and opinions are my own. Thank you to Fantastic Flying Book Club, Netgalley, and HMH Books for Young Readers for this free copy. All quotes in this review are taken from the Advanced Reader Copy and may change in final publication.
Okay do you know how freaking shook I was when I saw that this book was going to center around tattoo magic?! Like, I think about all the tattoos that I currently have and all the tattoos that I wish I could get right away and then I think about how much it would be so cool to have so much tattoo magic in general and wow. I just could not believe that this book was in the world and that I had the opportunity to read it early.
And I'm so freaking glad for all the queer rep in this novel because I swear people sleep on queer rep in YA novels for some reason and you definitely should not. This book was something that I have never seen in the YA world, or in general and I thought it was one of my favorite reads for the year so far.
Then there's not only the tattoo magic, and the queer rep, but we also got another circus/carnival setting novel and those are few for me. I think the only one that I really read was Caraval, and I only read the first book. So while I know there may be some other novels about there with some circus / carnival settings, there really hasn't been a lot for ME that I have read, and being in this kind of setting again on top of everything else was absolutely great.
Ugh, I just freaking loved this novel. I seriously can't wait for the sequel and I wouldn't even be ashamed reading this again this year. Or even this month. No shame, whatsoever.
Back at it again with another playlist!