It's been a couple of days since my last blog tour, am I right? Man, do you know how nice it is to have a break sometimes in certain aspects of your life so you can focus on other things, and then get back into what you love the most? That's why I'm so thankful that I ended up taking this mini-hiatus, and I can't wait to come back in full force in the future.
Thanks again so much to RockStar Book Tours for this opportunity! Be sure to check out their website for more blog tours to sign up for, and more information on how to be one of their hosts! Let's get it started, shall we?
A powerful storm descends upon Cape Cod's Whale Rock at the peak of tourist season–and the weekend Cassandra Mitchell's and Daniel Benjamin's wedding is set to take place at The Bluffs, the magnificent Victorian mansion Cassie inherited from her family. In the wake of the storm's destruction, three-year-old Lucas Kleister goes missing–and the body of small-time drug dealer Lee Chambers is found in a restaurant dumpster. Now, the WRPD are faced with a murder to solve, a missing child to find, and the aftermath of one of the worst storms in recent memory.

While aiding with the clean-up and helping the displaced, Cassie has been receiving cryptic messages from the spirits of her great-grandparents, Percy and Celeste Mitchell, the original residents of The Bluffs. At first, the messages are benign, but soon, they begin to point to something more sinister. As Cassie works to decipher their meaning, the specter of a mysterious local legend surfaces. The tale of Barnacle Boy–and what happened to him during another destructive storm decades earlier–will weave through the desperate search to find Lucas and the identity of the killer.
"Modern and historic mysteries collide in Marion's bittersweet storytelling." —Kirkus Reviews
"[A] gripping sequel…Marion seamlessly weaves the multiple story threads together. Fans of tales of regional intrigue will be satisfied." —Publishers Weekly
Website | Facebook | Pinterest | Goodreads
An author of fiction, Loretta's writing bridges the genres of women's fiction, mystery and suspense, always with hints of romance and humor, sometimes delving into the psychological and paranormal. She creates strong but flawed and struggling characters as appealing as the rich atmospheric settings in which the stories take place.
Loretta has loved reading and creating with words since she was a young girl. And that affection for the written word followed her like a shadow throughout her life as she put pen to paper crafting marketing and advertising copy, educational brochures and newsletters. But her passion for writing fiction evolved from the unlikely world of hospice. As a volunteer, she set out to establish a Legacy Story program to honor and preserve the rich heritage of the fascinating people who were soon to leave this world. The meaningful experience inspired her to create her own interesting characters and stories.
Though born and raised in the Midwest, Loretta fell in love with New England and has made it the setting for much of her writing. When not whipping out words on her laptop, she is traveling, enjoying outdoor pursuits, or is curled up with a delicious new book. Loretta lives in Rhode Island with her husband, Geoffrey, and their beloved Mr. Peabody, a sweet, devoted and amusing "Corgador" (Corgi-Labrador cross).
Represented by Jill Grosjean Literary Agency.
Disclaimer: I voluntarily read and reviewed an advanced copy of this book. All thoughts and opinions are my own. Thank you to RockStar Book Tours and Crooked Lane Books for this free copy. All quotes in this review are taken from the Advanced Reader Copy and may change in final publication.
Honestly if the prologue has something so out there that I just need to know how it ties in to the rest of the storyline, that probably already sucked me in to the book. That's pretty much what happened with this novel, because I was trying to figure out who the people were on the boat, why they were crucial to Cassandra and the mystery she had to deal with, and how the heck they weren't paying attention to a little boy falling off the boat during a terrible storm! Like, where was the boy's parents and why wasn't he secured somewhere? It just freaked me out and I don't even have kids!
So anyway, after the prologue just totally freaked me out and had me on the edge of my seat because I needed to know if they ever found the little guy, I meet Cassandra for the first time – although this is part of a series I didn't feel like I was missing too much of the backstory, so kudos to Marion for that – on what is supposed to be her wedding day but because of the storm… gets postponed. Isn't it supposed to be good luck if it's raining on your wedding day?
Well, maybe not a storm.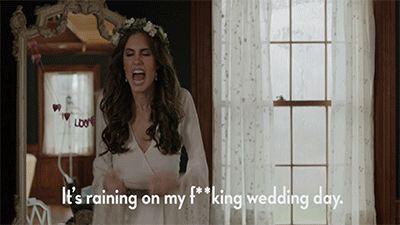 Hey at least she didn't throw a tantrum like this lady, but I feel super bad for her because she seems super frustrated and not to mention her whole wedding outfit looks like a Greek Goddess or something.
Anyway, from that point on, we know that there's going to be some drama because there's nothing like starting a mystery with a postponed wedding and a storm. I think Marion did a great job pulling me into the story right away, already making me want to empathize with Cassandra and the situation she's in. Not only is it her wedding day, but she was also talking about how it was great that she was part of the family business again after they had to sell the company to someone else a few years ago. So even that right there made me want to like her. Which, I did like her, which probably wasn't clear while I was writing this. My bad.
Ugh I just really loved how Marion was able to tie in the past with the present, and the parallels between the two events that spanned years, but were somehow eerily similar in nature that it was almost hard to tell if they really were different events. Really if it wasn't for Cassandra actually experiencing one of the events, I wouldn't have known better, and that's what really made me enjoy this mystery. This was just such an interesting mystery novel and it makes me want to read the first one. I hope this isn't the end of the Haunted Bluffs series, because I think Marion could come up with so many more books for this. I anxiously wait to see what she gives us next!