Title: The Seduction Expert
(The Seduction Expert #1)
Author: Saya Lopez Ortega
Genre: Contemporary
Format: eBook
Length: 174 pages
Publisher: VSP Publishing
Publish Date: July 26, 2019
Rating: ★
Recommend: No
Disclaimer: I voluntarily read and reviewed an advanced copy of this book. All thoughts and opinions are my own. Thank you to VSP Publishing for this free copy.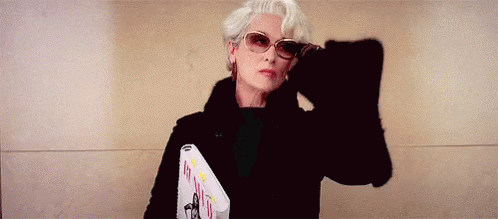 A lot of the reviews that I briefly read before deciding to read this book compared the main character "The Baroness" to the woman we love to hate (Miranda Priestly) in The Devil Wears Prada. Not to mention, if you look at the cover for this book, and the movie cover for TDWP, they have some similarities.
I would say that the key difference between Miranda and The Baroness is that I actually liked parts of Miranda. The Baroness, not so much. When the main character is absolutely full of themselves and reminds the reader at almost every other thought, it starts to get tiring. However, the faults of The Baroness don't completely take away from the book, and I do think that some people will definitely like it.
There are moments where The Baroness claims to be a feminist, wanting to be a champion for women in Paris (her headquarters) and possibly spanning her reach across Europe and the United States if the money's right. However, I feel like her thoughts and her feelings, words, etc. contradict her actions. For example:
"Femen." Instrument of power, funded by a mysterious oligarchy in order to lessen the respectable image of women. "I hold nothing in common with them." No need to strip to reign. I do it with class and effectiveness. "Neither do I support their fanciful activities."

The Baroness on a feminist group in Paris
One of the things about feminism is that fellow feminists aren't supposed to slut shame, or ridicule other feminists for their methods of whether taking their clothes off or not is the way to go. And yet that's one of the things she does throughout the novel. As long as her clients are paying her fees, they have no idea what she really thinks about them. Is that a real sisterhood mentality? I don't think so.
But then again, sometimes a good villain is someone that you just don't like. A part of me wants to see what happens next, to see if all her hard work is going to pay off and whether or not she can salvage what's happened to her, and I'd love to see if she can pull it off. I mean, if she's a good enough villain, I should be impressed.