Title: Illuminae (The Illuminae Files #1)
Author: Amie Kaufman & Jay Kristoff
Genre: YA Science Fiction
Format: Hardcover
Length: 602 pages
Publisher: Knopf Books for Young Readers
Publish Date: October 20, 2015
Rating: ★ ★ ★ ★ ★
Recommend: HECK YES!
I literally have no words for this book! I just can't believe how amazing this book was! I remember seeing a super negative review from someone that is prone to having negative reviews on a lot of books, and I just couldn't understand the hate for it. Then again, this person didn't get past the first 100 pages because the format of the book was "annoying" to this person, but I personally loved it.
So if you've never seen how the pages of Illuminae look like, it is basically like a huge official file of what went down in the aftermath of the destruction of Kerenza IV. It had transcripts of interviews, IMs, surveillance footage, and other files that just made it seem super official. I mean, it was. I was reading everything there was to know about the fight that the Alexander, Hypatia, and Copernicus had to go through after rescuing the refugees from Kerenza IV. The main two characters in this book were Kady Grant and Ezra Mason, who just so happened to break up the day before their world came crashing down, literally.
I was literally at the edge of my seat reading this book. I didn't want to stop to eat, to sleep, to do anything. I brought my book to the restaurants we went to on Sunday. I brought it to the dog park. I brought it everywhere. I had all of my dogs laying around me as I stayed up until the wee hours of the morning to find out what was going to be the final fate of the Alexander fleet. What was going to happen to Kady? What already happened to Ezra? Did I put my heart and soul into characters that weren't going to make it past this book? Would I survive? Was this going to be the most epic battle in all of history?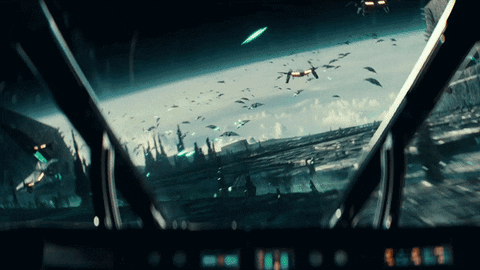 I have to say that this is now at the top of my favorite books in 2019 because holy cow. I just loved it. I felt for everyone that didn't survive. I felt for them trying their damn hardest to make it to safety and finding that they just didn't get there fast enough. I felt for the list of names on the casualty list from a certain battle – spoiler alert: Amie and Jay are on that list and I almost died – and could not believe that all of those lives were wiped out in an instant. I felt for what Kady and Ezra saw when they were trying to escape the BeiTech attack on Kerenza IV. I almost felt something for AIDAN, but whether it was a positive or negative feeling, I'm not certain yet.
Basically just read the damn book. Or listen to the full cast audio that has these amazing space special effects to make you really feel like you're in their world. I may listen to the audiobook even though I finished the hardcover, just so I can see how they do certain things on it – like AIDAN glitching.