Lena Duchannes is unlike anyone the small Southern town of Gatlin has ever seen, and she's struggling to conceal her power, and a curse that has haunted her family for generations. But even within the overgrown gardens, murky swamps and crumbling graveyards of the forgotten South, a secret cannot stay hidden forever.

Ethan Wate, who has been counting the months until he can escape from Gatlin, is haunted by dreams of a beautiful girl he has never met. When Lena moves into the town's oldest and most infamous plantation, Ethan is inexplicably drawn to her and determined to uncover the connection between them.

In a town with no surprises, one secret could change everything.

Book Overview:

Authors: Kami Garcia, Margaret Stohl | Series: Caster Chronicles | Format: Audiobook | Narrated by: Kevin Collins, Eve Bianco | Length: 17 hours, 20 mins | Publish Date: December 1, 2009 | Genre: YA Paranormal | Literary Awards: Georgia Peach Book Award Nominee for Honor book (2011), William C. Morris YA Debut Award Nominee (2010), Audie Award for Paranormal (2011), Goodreads Choice Award Nominee for Young Adult Fiction (2009) | Rated: ★ ★ ★ ★ | Recommend: Yes


"Mortals. I envy you. You think you can change things. Stop the universe. Undo what was done long before you came along. You are such beautiful creatures."

I had been hearing about this book for a long time, and when I heard about the movie that came out based on the book, I was dying to watch it but never did. I think I didn't want to watch it without really understanding what it was about. Even reading the synopsis for this book didn't fully make my understand what this book was about.

Honestly, I don't think I really did understand what was happening until about halfway through it. The entire time, I was like "what the heck is happening?! someone please explain because it's killing me!"

Yes, I'm a dramatic reader sometimes. It happens. It's fine.


"There was a curse. There was a girl. And in the end, there was a grave.I never even saw it coming."

For the most part though, once I did finally get it, I enjoyed the book. I liked that it came from Ethan's perspective rather than Lena's. He was a mortal in the world of… something else. It's like Harry Potter when he first realized that he was a wizard. He didn't realize what the heck was going on and didn't even believe that magic was real. It was kind of the same thing here. Not to mention, Lena's family was pretty interesting to deal with, especially her baddy cousin Ridley. Why couldn't Lena be more of a bad girl like Ridley? I love it when the main girl isn't always a goodie-two-shoes but oh well.

I'm sorry for my crappy review this time. I'm still trying to wrap my head around everything that happened in this book. There's visions of the past, a destiny that can change the world entirely, and a bunch of people in a small Southern town in South Carolina that don't take kindly to outsiders. It's an interesting book, with an interesting storyline. Sure, it may not be super duper unique where nobody has ever heard of it before, but it's also not a cliche either. Even the ending had me surprised because something happened that I definitely did not expect.

I do think I will end up reading the next book at least, because I have to know what will happen to Lena and Ethan after the events of Lena's sixteenth birthday, and the consequences that came from her decisions.

Plus I want to see just how powerful Lena ends up becoming. I can't help seeing girls kick butt.


Author Spotlight
Courtesy of Goodreads
Born: in Washington DC, The United States
Genre: Young Adult, Science Fiction & Fantasy, Romance
Goodreads Member Since: April 2009
Kami Garcia is the #1 New York Times & USA Today bestselling co-author of the Beautiful Creatures novels & the Dangerous Creatures novels, and the author of the instant New York Times bestseller & Bram Stoker Award nominated novels UNBREAKABLE & UNMARKED in the Legion Series. Her contemporary romance THE LOVELY RECKLESS releases on October 4th (Imprint/Macmillan).
Kami grew up outside of Washington DC, wore lots of black, and spent hours writing poetry in spiral notebooks. When Kami isn't writing, she lives to bake, watch bad disaster movies, and listen to Soundgarden. She lives in Maryland with her husband, son, daughter, and their dogs Spike and Oz (named after characters from Buffy the Vampire Slayer).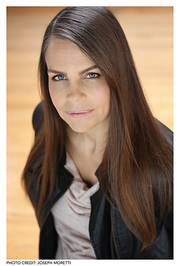 Genre: Young Adult, Romance, Science Fiction & Fantasy
Influences: Diane Wynne Jones, Susan Cooper, Madeleine L'Engle
Goodreads Member Since: April 2009
Margaret Stohl is the #1 New York Times, PW, USA Today, LA Times and Internationally bestselling co-author or author of twelve books, including the BEAUTIFUL CREATURES NOVELS, the DANGEROUS CREATURES NOVELS, the ICONS NOVELS, MARVEL'S BLACK WIDOW NOVELS, ROYCE ROLLS & CATS VS ROBOTS THIS IS WAR (forthcoming!) She writes the MIGHTY CAPTAIN MARVEL comic for Marvel Comics (ongoing) and has contributed to countless videogames; currently, she is a Narrative Director at Bungie.
From the author:
Goodreads Peeps! Please note I no longer review the books on my shelf, "stars"-wise. I do list books I read, and they're all automatically marked as 5 stars. That's because a) I don't list books that I didn't like enough to finish and b) I didn't want to delete the ratings I had already given. If I particularly love a book and feel inclined to comment, you'll still see the comments here. Sadly, I have to ask: please don't reproduce these comments on book jackets, websites, or in any other medium for the marketing of books. They're only meant for fellow goodreaders. Thanks so much!
ABOUT ME:
Writing has gotten me in and out of trouble since I was 15 (back then, mostly just in trouble.) For 10 years, I designed &/or wrote for lots of video games, one of which was nominated for "Most Innovative Game Design," but I lost to a rapping onion. If you know games you get why my two bad beagles are named Zelda and Kirby. 

School: I spent more years in it than a person ever should, because let's face it, reading books is so much better than having a job. I fell in love with American literature at Amherst and Yale, earned an MA in English from Stanford, and studied creative writing under the late great poet George MacBeth at the University of East Anglia, Norwich. I taught Intro to Film as a TA at Yale and Romantic Poetry as a TA at Stanford. Don't tell the people at Yale but sometimes I taught the section before I'd seen the movie it was about…

I live in Santa Monica, CA, with my family, most of whom were enslaved into working with me in one form or another on my first YA book for Little, Brown. I'm not kidding; when my daughters wanted to go to school I said "Why are you so selfish? Get back in there and edit," and by said I mean yelled and maybe threw things, it's all a haze. Now the Beautiful series has wrapped, but you can see the movie on February 13, 2013 or read my new book ICONS on May 7th. Nothing gold can stay, Ponyboy.