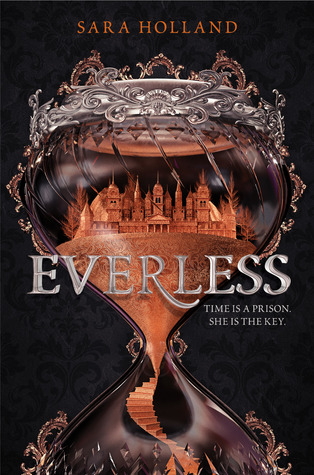 In the kingdom of Sempera, time is currency—extracted from blood, bound to iron, and consumed to add time to one's own lifespan. The rich aristocracy, like the Gerlings, tax the poor to the hilt, extending their own lives by centuries.

No one resents the Gerlings more than Jules Ember. A decade ago, she and her father were servants at Everless, the Gerlings' palatial estate, until a fateful accident forced them to flee in the dead of night. When Jules discovers that her father is dying, she knows that she must return to Everless to earn more time for him before she loses him forever.

But going back to Everless brings more danger—and temptation—than Jules could have ever imagined. Soon she's caught in a tangle of violent secrets and finds her heart torn between two people she thought she'd never see again. Her decisions have the power to change her fate—and the fate of time itself.

Book Overview:

Author: Sara Holland | Series: Untitled | Format: Audiobook | Narrated by: Eileen Stevens | Length: 10 hours, 1 min | Publish Date: January 2, 2018 | Rating: ★ ★ ★ ★ ★ | Recommend: HECK YES


"Maybe I am a mystery— a secret— that needs unravelling…"

Oh. My. Gosh.

I can't believe the kind of adventure I took while I read this book. I can't even believe that I was lucky enough to get this book a little bit after its release date, although I only got to read it just recently. I had heard mixed reviews before I decided to dive into it, from absolutely loving it to thoroughly hating it.

I have to say that I'm on the absolutely loving it team.

So first of all, the concept of someone's blood being used as currency was weird in and of itself. I had never heard of a book or TV show or anything that has done that before. But that's not all! Their blood shows how much time they have left in their life. The more blood irons you own, and consume, the longer you will live. How crazy is that? They even had cases where people have lost all of their time because they owe too much of it, bloodletting their life source in order to pay for their taxes and rent and anything else they need to pay for. Of course, the only people that don't really have to worry about it are the Gerlings, basically considered royalty and almost immortal. The main protagonist Jules and her father used to live in Everless, the home of the Gerlings, until they were banished by one of the Princes of Everless, a jerk named Liam. But when her father is about to lose whatever time he has left, she realizes that the only way to save him is to go back to Everless, and work as a maid to earn enough time to save him.

I honestly loved the concept of this book, and it made me really think about what I would do if my life was determined by how much time I had left, and what I would spend my "time" on when it was taken out of my body. We all know I love books, but would I even have enough time to spend on books if my time was limited? I don't know! That's such a scary thought, isn't it?

It was so interesting to know that Jules' life was not what she remembered. It was like her memory of her childhood, spending time with the Gerling boys before she was forced to leave, wasn't entirely what it seems to be. When she moved up in her station in the castle, from working in the kitchens to being basically a lady in waiting for the future Queen of Everless, she learns about her origin story and has to deal with loss, an identity crisis, and some form of betrayal that may end up breaking her heart.

I can't wait to read the sequel! Especially since the ending had me completely heartbroken and I wanted to cry. The way it left us hanging was terrible! In a good way, though… except for the fact that now I want to know what the heck is going to happen next!


Genre: Young Adult, Fantasy, Fiction
Goodreads Member Since: January 2011
Sara Holland grew up in small-town Minnesota among hundreds of books. She graduated from Wesleyan University and worked in a tea shop, a dentist's office, and a state capitol building before heading to New York to work in publishing. These days, she can be found exploring the city's bookstores or finding new ways to put caffeine in her bloodstream. EVERLESS is her debut novel.