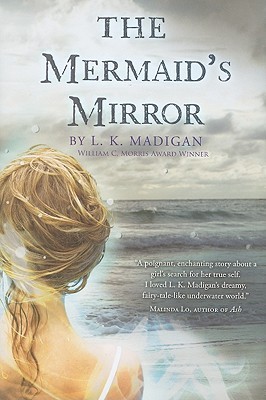 Lena has lived her whole life near the beach – walking for miles up and down the shore and breathing the salty air, swimming in the cold water, and watching the surfers rule the waves – the problem is, she's spent her whole life just watching.

As her sixteenth birthday approaches, Lena vows she will no longer watch from the sand: she will learn to surf.

But her father – a former surfer himself – refuses to allow her to take lessons. After his near drowning years ago, he can't bear to let Lena take up the risky sport.

Yet something keeps drawing Lena to the water… an ancient, powerful magic. And one morning Lena catches sight of this magic: a beautiful woman – with a silvery tail.

Now nothing can stop Lena from seeking the mermaid, not even the dangerous waves at Magic Crescent Cove.

And soon… what she sees in the mermaid's mirror will change her life forever.

Book Overview:

Author: L. K. Madigan | Series: None | Format: Paperback | Length: 308 pages | Publish Date: September 27, 2011 | Genre: YA Fantasy/Mythology | Rated: ★ ★ ★ ★ | Recommend: Yes


"By the lightof the blueberry moonwe sang this songin Lena's room…"

I read this book as part of one of my bookclubs last year, but I only just finished it today. I'm not sure what took me a while to finally get back to finishing the book, but I finally did. I'm glad I know what happened at the end, and now I can rest easy knowing that I actually don't have to worry about this one anymore.

This book was about a girl named Lena (her full name is Selena but nobody calls her that), a girl in California who just can't get enough of the ocean. The only catch is, her father refuses to let her swim or surf because of the time where he almost died surfing many years ago. He doesn't want the same thing or worse to happen to her, but for some reason Lena feels the ocean calling to her. On her sixteenth birthday, she goes to her favorite beach, Magic's, and as she's looking out into the ocean, she sees a mermaid.

Yep, a real-life mermaid.

At first, she thinks she's going crazy. I mean, mermaids aren't real, right? That's what Lena thought when she first saw the beautiful creature. She soon became obsessed with seeing the mermaid again, and eventually, something else happened that she would have never imagined in her entire life.

Lena was the kind of character that you wanted to support through all of her decisions, but just couldn't. There were times where I understood why she was so angry, but just couldn't imagine the actions she took because of it. I wanted to tell her "NO! You don't want to do that!" or "How could you be so cruel right now?" but of course, she couldn't hear me. Lena is an interesting character though, and when you follow her journey, you know that she is the kind of girl that will stop at nothing to get what she wants.

This was a beautiful story about my favorite mythological creature in the world, and I'm sorry that there will be no more stories about Lena and her friends. I hope to visit her world again one day, and dream about life under the sea.


Author Spotlight
Courtesy of Goodreads
Born: in Portland, OR, The United States
Genre: Young Adult, Paranormal
Lisa Wolfson (also known as L.K. Madigan) was born in Portland, Oregon, but when she was ten years old, her parents moved to Los Angeles. They were pretty insistent that she accompany them. She spent the rest of her formative years in L.A. (the Valley, to be exact … a region made famous in both song and film). When she was 28, she decided that she didn't want to spend the rest of her life in L.A., even though she had a cool job working at Warner Bros. Records. Her husband and her decided to relocate to her hometown. Living in Portland and L.A. made her the kind of person who was equally at home sitting in traffic jams or walking in the rain.
FLASH BURNOUT was published in October 2009. Her second young adult novel, a paranormal story titled THE MERMAID'S MIRROR, was released in Fall 2010. 
She was a 20-year breast cancer survivor. She died on February 23, 2011 from pancreatic cancer at the age of 47.